Running on. . .Running On Empty band are bringing their breezy California vibe to Norfolk, CT, at the Infinity Music Hall and Bistro on Friday August 24th, 8PM. With a recent sell out show at
The Kate, and a near sell out at Nelson Hall, come see how this fine band of musicians can transport you with hit songs by Jackson Browne, The Eagles, Linda Ronstadt, Crosby, Still, and Nash and more. All ages. Tickets $24-39. Beautiful theater!
Infinity Music Hall & Bistro
Friday, August 24th, 8PM. (Doors 7PM)
20 Greenwoods Road West
Norfolk, CT
Box Office  866.666.6306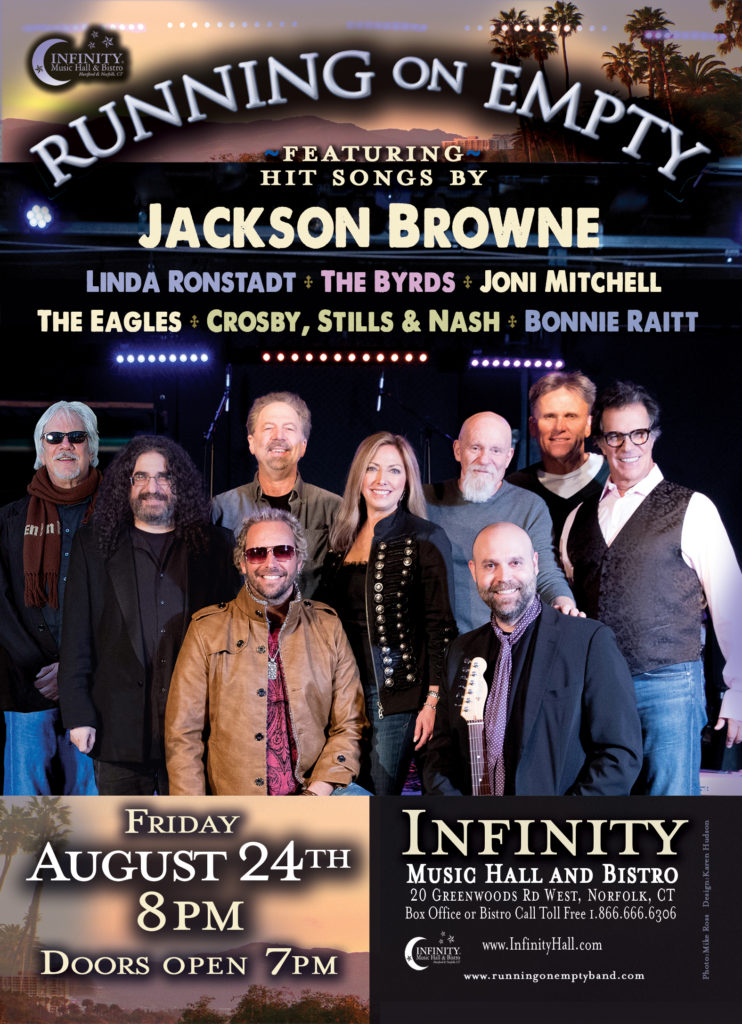 Running on Empty Band:
Sheila Fabrizio
Andy Gundell
Howard Jeffrey
Kenny Kosek
Rob Mack
Shawn Persinger
Jonathan Schneider
Greg Trabandt
Jordan West

2018 past shows:
The Kate Theater show in Old Saybrook, CT. on June 2nd, 2018 was a sell-out with 249 tickets sold! Thanks so much for your support.
2017 Shows:
Running on Empty Band had a  great, near sell-out show at the Nelson Hall Theater in Cheshire, CT, November 17th, 2017 with 225 seats sold. It was a solid turnout on a Friday for a theatre that few folks know about!
What a great show Running On Empty Band had at
Toad's Place of New Haven, CT, with Mark Daniel opening the show.  Thanks to everyone for coming!
Photos from Toad's Place Show by Mike Ross:
Click here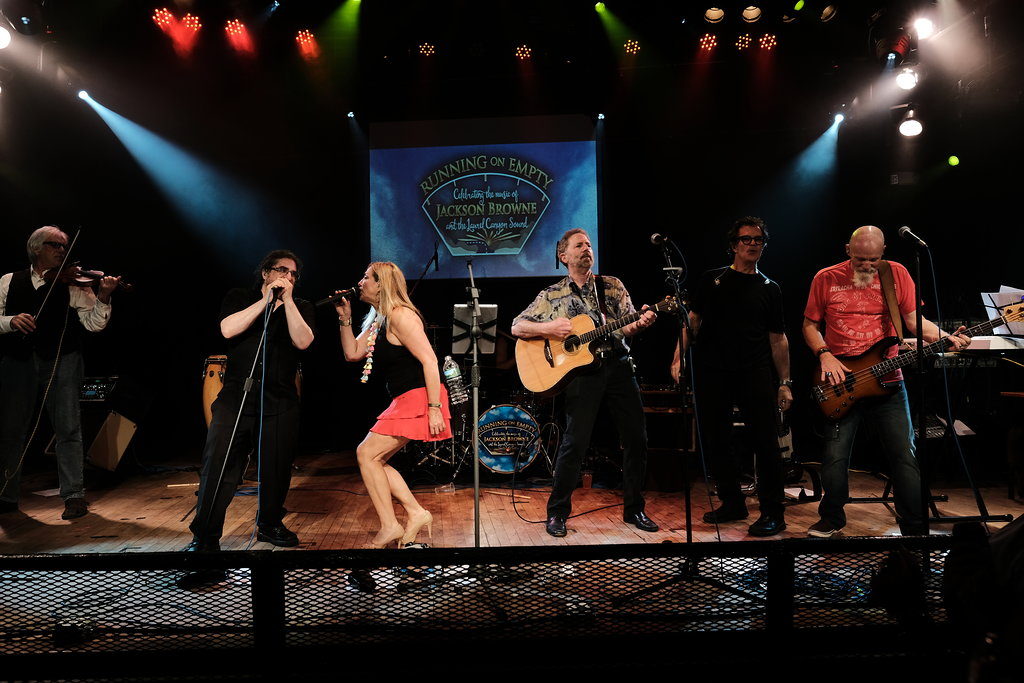 RUNNING ON EMPTY, the Jackson Browne and
Laurel Canyon tribute band

While running up 91 on a beautiful, New England blue-sky day in the summer of '15, Jackson Browne's song, "Running on Empty" was blasting from the car stereo. At that moment, creator, bandleader, manager Jonathan "Rock Doc" Schneider knew he had to assemble a group of talented singers and musicians to re-create the music from that special time and place: The early 70's in Laurel Canyon. The songs of Jackson Browne, Bonnie Raitt, Linda Ronstadt, Joni Mitchell and the Eagles come to life with the extremely talented ensemble that always leaves the audience on their feet dancing, and wanting more.



---
Please sign up for our mailing list. Go to our Contact Us page. Like us on Facebook!
Save
Save
Save
Save
Save
Save
Save
Save
Save
Save
Save
Save
Save
Save
Save
Save
Save
Save
Save
Save
Save
Save
Save
Save
Save
Save
Save
Save
Save
Save
Save
Save
Save
Save
Save
Save
Save
Save
Save
Save
Save
Save
Save
Save
Save
Save
Save
Save
Save
Save
Save
Save
Save
Save
Save
Save
Save
Save
Save
Save
Save
Save